Obama's "strong disapproval" rating continues to increase, while his "strong approval" rating continues to decrease:
"The Rasmussen Reports daily Presidential Tracking Poll for Wednesday shows that 32% of the nation's voters now Strongly Approve of the way that Barack Obama is performing his role as President. Thirty-seven percent (37%) Strongly Disapprove giving Obama a Presidential Approval Index rating of –5.
The number who strongly disapprove inched up another point

to the highest level measured to date

and the overall Approval Index is at the lowest level yet for Obama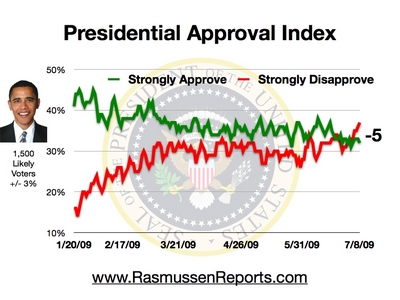 "56% Don't Want To Pay More To Fight Global Warming"

:
"A new Rasmussen Reports national telephone survey, taken since the
climate change
bill was passed on Friday, finds that

21% of Americans are willing to pay $100 more per year

for cleaner energy and to counter global warming.



Only 14% are willing to pay more than that amount.
....

Sixty-seven percent (67%) of Mainstream Americans say they are not willing to pay higher taxes and utility costs to generate cleaner energy and fight global warming, compared to only 17% of the Political Class."
"Just 27% Favor Second Stimulus Plan This Year, 60% Oppose":
"A new Rasmussen Reports national telephone survey shows that

just 27% of voters favor a new stimulus plan

, unchanged from the earlier findings. Thirteen percent (13%) are not sure.
...

While voters nationwide strongly oppose another stimulus plan this year, 57% of the
Political Class
think it's a good idea.

That helps to explain why 68% of voters believe it is at least somewhat likely that President Obama and
Congress
will try to pass another economic stimulus plan this year."
Republicans Remain Ahead on Generic Ballot:
"Republican candidates lead Democrats for the second straight week in the latest edition of the Generic Congressional Ballot
A new Rasmussen Reports national telephone survey shows that 41% would vote for their district's Republican congressional candidate while 38% would choose the Democratic candidate."
#